Wondering what to read? Can't make up your mind about a book from the library? I'm here to give you some recommended reading straight from the Hutto Middle School Media Center. This page will keep you up to date on my recent reads...what I liked and what you may find the whole school reading soon. Check back often as I update you on what is cool to read this year.
Imagine sitting in the meanest, scariest, oldest science teacher's class waiting for her to choose someone to answer a question that no one knows the answer to. That is where we begin. Nick and Marta find themselves in Bunny Starch's biology class waiting with baited breath as Starch chooses Duane (aka Smoke) to answer her question. Instead, he chooses to shock the class by biting her number 2 pencil straight out of her hand, chewing it up, and swallowing. The next day, Bunny Starch goes missing and the students are told she has had a family emergency. Nick and Marta don't buy it, and begin a search to uncover what has really happened. In the process, they realize that more is going on in their town than they were expecting.
UPDATE (Jan. 31, 2013): I have met the million word mark for the year...and the book that pushed me over the edge was....FLUSH by Carl Hiaasen!
If you think your father is strange, you have nothing compared to Noah Underwood. The story begins with Noah visiting his father on Father's Day in the county jail. Why, do you ask, is his father in jail? Only for sinking a river casino boat off the coast of near their Florida Keys home. And this isn't the first time his dad has been in jail. However, this time he refuses to leave until something is done to prove he did the right thing. Can Noah, with his sister's Abbey's help, finally prove that his dad is a really a hero?
Artemis Fowl

by Eoin Colfer

Genre: Science Fiction / Fantasy
Word Count:
Book 1: Artemis Fowl: 56,684

Book 2: Artemis Fowl and the Arctic Incident: 58,517

Book 3: Artemis Fowl and the Eternity Code: 66,357

Book 4: Artemis Fowl and the Opal Deception: 75,028
Book 5: Artemis Fowl and the Lost Colony: 83,441

Book 6: Artemis Fowl and the Time Paradox: 82,921
Book 7: Artemis Fowl and the Atlantis Complex: 76,673
Book 8: Artemis Fowl and the Last Guardian: 70,026

Eoin Colfer's Artemis Fowl series begins with Artemis Fowl, age 12, criminal mastermind, verified genius, concocting a plan to capture a fairy to ransom in order to restore his family's fortune after his father's disappearance. As the series progresses, Artemis turns from anti-hero to the fairies to a savior-type helping rescue them from discovery. Along the way are mishaps and creative solutions to varrying problems.

---
My goal is to finish The Wheel of Time series by Robert Jordan this school year. This is a 15 book epic fantasy series. I am currently reading book 13.

Wheel of Time
by Robert Jordan
Genre: Epic Fantasy
Word Count:
Book 1: The Eye of the World: 305,952
Book 2: The Great Hunt: 267,078
Book 3: The Dragon Reborn: 251,392
Book 4: The Shadow Rising: 393,823
Book 5: The Fires of Heaven: 354,109
Book 6: Lord of Chaos: 389,264
Book 7: A Crown of Swords: 295,028
Book 8: The Path of Daggers: 226,687
Book 9: Winter's Heart: 238,789
Book 10: Crossroads of Twilight: 271,632
Book 11: Knife of Dreams: 315,163
Book 12: The Gathering Storms: 303,630
Book 13: Towers of Midnight: 325,998
Book 14: A Memory of Light: (release date Jan. 2013)
Prequel: New Spring: 121,815
Robert Jordan's Wheel of Time series is an epic fantasy set in a forgotten age. It begins with "the breaking of the world". The world continues to progress and cycle through a fight between good and evil with various people claiming to be "the dragon reborn". The story begins with Rand al'Thor and his two friends Matrim Cauthon and Perrin Aybara. One of the three are considered the next dragon and a fight begins with both the representative of good and the representative of evil trying to win over the new dragon.
---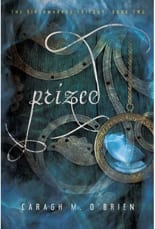 The Birthmarked Trilogy by Caragh M. O'Brien
Genre: Science Fiction / Adventure
Word Count:
Book 1 Birthmarked: 103,625
Book 2 Prized: 97,473
Book 3 Promised: (published Oct. 2012)
After severe climate change, Gaia Stone lives in a dystopian world where one lives either inside the wall or outside the wall. Gaia lives outside, and is a midwife apprentice to her mother. The people outside the wall must give those inside a certain quota of newborn babies. For reasons unknown to her, Gaia's mother and father are taken prisoner by those inside the wall. She vows to free them and finds herself inside watching an execution of a couple. Things escalate from there as she becomes a heroine to some and a threat to others.
---
Inheritance Cycle by Christopher Paolini
Genre: Fantasy / Adventure
Word Count:
Book 1 Eragon: 157,200
Book 2 Eldest: 213,516
Book 3 Brisingr: 254,629
Book 4 Inheritance: 280,712
In Alagaesia, a fifteen-year-old boy called Eragon finds a mysterious stone that causes life changes events. The stone is a dragon egg, one of only 3 eggs left in the world. The only other dragon alive is linked with the evil King, Galbatorix. When the egg hatches, Eargon becomes the next dragon rider, who is destined to help rid the world of Galbatorix and all his supporters. This tale of adventure is full of magic, monsters, elves, dwarves, urgals, and fast paced action.
---
The Maze Runner Trilogy by James Dashner
Genre: Science Fiction
Word Count:
Book 1 The Maze Runner: 101,182
Book 2 The Scorch Trials: 96,869
Book 3 The Death Cure: 87,385
Imagine waking up in a box with people staring at you, but you have no idea who or where you are. In The Maze Runner, Thomas wakes up to a nightmare, a Glade surrounded by stone walls that open in the morning to a maze and close at night to keep the Greavers out. The only inhabitants of the Glade are male kids. There are no adults, and no females. Everything has been routine in the Glade as long as the kids can remember, until Thomas shows up and changes everything.
---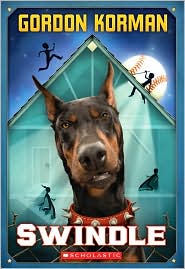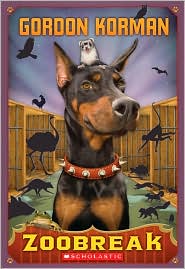 The Swindle Series by Gordon Korman
Genre: General Fiction
Word Count:
Book 1: Swindle: 34,653
Book 2: Zoobreak: 36,322
Book 3: Framed: 39,402
Book 4 (coming Jan 2012): Showoff:
Swindle
Griffin Bing is your average kid if you consider average one that has a plan for everything. He is known as "The Man with the Plan". After planning a sleepout in a house that is destined to be demolished the following day, Griffin finds a rare Babe Ruth baseball card in a secret drawer of a desk in the house. He takes it to a collector, S. Wendell Palomino, who buys it for $120. Later that evening while Griffin is watching television he realizes that Palomino (hereafter known as Swindle) is auctioning off HIS card for one million dollars. Griffin, The Man with the Plan, is determined to get the card back. Only, his plan seems to backfire more often than not.
Zoobreak
Griffin and friends are at it again. After Savannah's monkey, Cleo, goes missing, the last place the friends expect to find her is at a floating zoo. However, this is exactly what happens in Zoobreak. "The Man with the Plan" must come up with a way to rescue the monkey. After many wrong turns, the monkey is saved, but Savannah will not leave all the other animals behind. Find out what happens when the gang tries to save all the animals.
---
Countdown by Deborah Wiles
Award: 2011-2012 Georgia Book Award Nominee
Genre: Historical Fiction
Word Count: 59,266
The year is 1962 and Franny Chapman is having a rough year. She is feuding with her best friend, her uncle is losing his mind and thinks he is still in the war, her older sister is keeping secrets from her, and her little brother is being the saint he always is. On top of that, everyone is living in fear of a nuclear bomb being dropped on the United States at any moment. Life is not going so well. Reminders to "duck and cover" are everywhere. Franny just wants life to get back to normal. Countdown takes us back in the past with photographs, news clippings, quotes, and song lyrics to show us what living in the year of the Cuban Missle Crisis was like for Franny and her family.
---
The Secrets of the Imortal Nicholas Flamel Series

by Michael Scott
Genre: Fantasy - Magic
Word Count:
Book 1 - The Alchemyst: 85,926
Book 2 - The Magician: 105,012
Book 3 - The Sorceress: 108,723
Book 4 - The Necromancer: 82,458
Book 5 - The Warlock:
I began reading this series a few years ago. It starts off with a familiar character to Harry Potter fans: Nicholas Flamel. Nicholas Flamel is the famous alchemyst who has the secret to imortal life. In this series, we begin with Flamel and his wife living in San Francisco in the current time. They have employed a set of twins and it becomes aparent to them that the twins are those of legend with gold and silver auras. When Dr. John Dee (another imortal magician) attempts to steal the book of magic that the Flamels use to remain imortal, a magical battle begins. The twins, Sophie and Josh, are pulled into this magical world where nothing that they believed remains untouched. Monsters reign in every major city and destruction follows in their path as they come to realize that they are the key to either the end of the world, or the beginning of a new era.
---
The Rumpelstiltskin Problem by Vivian Vande Velde
Genre: Humor - Fractured Fairy Tales
Word Count: 22,987
Have you ever wondered what happened before "Once upon a time" and "Happily Ever After"? If so, this book is for you. The author states that she has always wondered why a father would tell a king that his daughter could spin gold from straw. Another question, how did Rumpelstiltskin KNOW that he was needed and why did he want a baby? So many questions in the story of Rumpelstiltskin, yet people adore the story. In this book, you will discover some answers to the question, "What happens before 'Once upon a time'?" Velde retells this classic tale in six alternate formats.
---
Uprising by Margaret Peterson Haddix
Genre: Historical fiction
Word Count: 89,272
This book was a page turner! I had difficulty putting this one down. It is set in the early 1900s in New York City during a time of immigration and the women's suffrage movement. The lives of three very different girls are intertwined with a shirt factory, a workers strike, the beginning of labor unions, and a fire which destroys the lives of many. There are some events which are not pretty such as when one of the characters is beat up and arrested for leading a strike, and the fire is very graphic. However, one must remember that these stories, although fictional, are based upon events that really took place in our nation's history.